We operate and optimise the central IT ecosystem for a top German asset management firm. The task resembles that of a cardiac surgeon: How to run a complex system while improving it.
The balancing act of smoothly running a system while optimising it is always a challenge. But it is particularly tricky for large companies. Consider one of our long-standing clients, a leading German asset management firm. It has grown over decades. During that time, it has continuously added new applications and together with existing ones expanded into an elaborate IT ecosystem. Then, the question is: How do you keep such a complex system both agile and stable?
Reducing Complexity
In our long-term partnership with the asset management company, we have been responsible for its SimCorp Dimension software. That is a front-to-back integrated system at the heart of all its asset management activities ranging from portfolio management to fund accounting. Developing and optimising the application and the overarching ecosystem while operating that business-critical application is a service we call Run the Business.
Such an IT ecosystem consists of several mutually interdependent applications in various complexities. A second major software framework closely linked to SimCorp Dimension is the market data system. Given our expertise in identifying overarching dependencies and our success in improving and operating SimCorp Dimension, we were entrusted to develop and run the market data system as well.
The system's task is to initially source group-wide relevant market data from various data vendors such as Bloomberg or Refinitiv. Subsequently, the raw data is consolidated and pre-processed through a sophisticated procedure to assure its quality. The quality assured data is finally integrated and managed in a central repository. From there data sets are passed on to various target systems along the entire value chain from research, trading and portfolio management, performance and risk management, through mid and back office to regulatory and client reporting.
How to Stay Ahead
The challenge in that project lies in the nature of our client's fast-moving business. The financial industry is subject to constant transformation like regulatory reform, technological progress and financial innovations. In such a dynamic environment, concentrating on only running an application would inevitably lead the IT system to stagnate and our client to fall behind its competitors.
Here our deep understanding of the asset management business proves vital. While running software we continuously optimise capabilities such as business functionality, regulatory compatibility, stability of the infrastructure and computational efficiency. In this ecosystem any disruption leads to costly distortions. Therefore, our task is the IT-equivalent of conducting open-heart surgery.
For that task we assembled a team of experts including Business Analysts, UX-Designers, Software Developers, IT-Architects and Quantitative Analysts. One of them is our Software Developer, Aleksandr Lapitckii.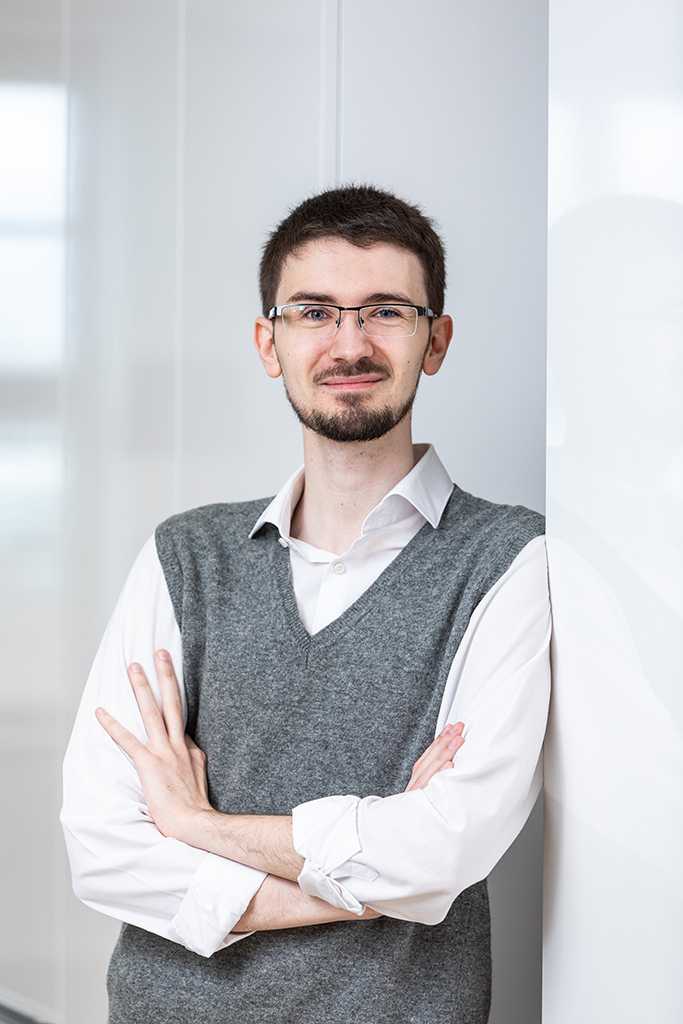 "I grew up in Russia, now I live in Germany; and I studied applied maths, now I work as developer. So, I am used to building bridges – cultural, linguistic or intellectual. In this project I liaise with our client's Risk and Data Management team to transpose their needs into software. It's yet another bridge that I find exciting to build."
Aleksandr Lapitckii, Software Engineer
An early step that we took in running and simultaneously enhancing the system, was a twofold improvement to the IT-infrastructure. First, we migrated data and applications onto a hybrid structure. That combines an in-house cloud, which boosts efficiency, and a hardware server structure to comply with regulatory requirements and make the system resilient in case of disasters, ensuring so-called disaster recovery. Plus, we migrated the data storage from a file-based proprietary database to a more robust SQL database.
Guaranteeing Correct Prices
Bonds screened through consolidated pricing and quality assurance:
30,000
Furthermore, we developed a tailor-made application to constantly monitor the health of the system. That app supervises and logs all IT processes to swiftly detect irregularities and alert responsible team members who can immediately assess arising issues.
To simplify the use of the IT systems for our client's employees we also developed a graphical user interface. Applying a user-centric approach not only made the applications more intuitive. It also streamlined workflows by cutting the necessary steps for quality assurance by more than 40%. Plus, we reduced the number of layers and trimmed file paths thereby shortening time to access market data by more than 65%.
Picking up Speed
Time savings in quality assurance due to workflow optimisation:
> 40%
Time savings in market data access due to optimised IT-architecture:
> 65%
In sum, we have supported our client not only in smoothly operating two business-critical IT systems over several years. At the same time, we have also optimised several crucial elements of these systems. That has allowed our client to successfully run its business while staying ahead of its competitors amid far-reaching regulatory, technological and financial developments.
How to Get in Touch
Do reach out to our regional experts who will be glad to assist you or put you in touch with our specialists.
Related Content
Services - Case Study: Customised Mass Production for Derivatives
Industrial
Evolution
Go to case study ›